Public Relations & Digital Marketing Services
Proudly Canadian ?? With a Global Reach

We don't just craft your PR & Digital Strategy.
We do so much more.
Limited Time Offer To New Clients:
Mention SAVE250 on your Discovery Call to Save $250 on PR and Digital Marketing services.
We work with companies who are defining the future.
taking innovative and alternative news mainstream
Our clients are the ones creating breakthroughs. We're here to show the world how they're aiming to make a difference.
As Featured In.
Our Core Services.
Alan Aldous offers a full range of integrated offerings.
Media Outreach & Newsire Distribution
Industry-Specific Strategic Consulting
Copywriting & Content Strategy
Search Engine Optimization (SEO)
CSR Initiatives & Campaigns
Web Development & Optimization
Digital Advertising
Media Monitoring
Social Media Strategy
Our Work.
Alan's been around the block
About Alan Aldous.
Telling stories worth being told
Alan Aldous Communications is a public relations agency focused on providing transparency to Canadian companies. Our mission is to provide real value through our services to companies on the leading edge of change.
What you see is what you get with Alan. The team has years of combined experience in the media landscape of regulated industries. We've built up what we believe is Canada's largest media database for the emerging markets.
We don't hide our services behind huge agency retainers. With Alan Aldous, you can have a rough idea as to how much a project would cost without ever leaving our website. When you work with us, you know exactly what you're paying for.
We assist a variety of clients in a number of regulated industries.
Case Studies
2) Mary Agrotechnologies
Problem
Mary began as an Indiegogo dream story. Now they are using their tech to solve the problem of food deserts on a global scale. It's a challenge to balance it all but with Alan Aldous they know that their messaging is always on-point.
Solution
We leveraged 2020's growing sentiment toward "grow your own" herbs to create maximum buzz around Mary as a product while the team was busy applying for a very rare opportunity to grow herbs in China. That, along with their IPO has given us many chances to keep Mary AG and their growing operations in the public eye on a regular basis.
Results
More than 16 earned media opportunities.
Coverage
CB Therapeutics
Problem
Biotech company CB Therapeutics sought traditional PR services, a complete face-lift of their website, as well as social media strategy, growth and management.
Solution
We created a beautiful website for CB, and in our first month of providing services to the client we started immediately connecting them with pertinent media publishers that wanted to feature CB in their publications. On the social media front, we developed an entire social media strategy, created assets and deployed the strategy along alongside organic follower growth.
Results
100%+ Lift in Website Traffic
500 New Followers in 1 month on brand new Instagram
View The Website Here.
View Our Social Media Work for CB Here.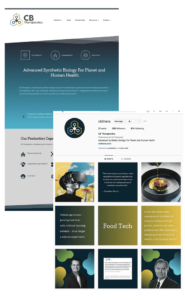 Schedule Your FREE Discovery Call & Get A Tailored Proposal.
Or Contact Us directly.